News
20 year old vehicles to be banned in Ktm for environment, pedestrians' safety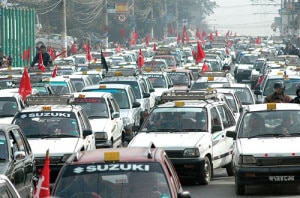 KATHMANDU, Nepal – After a high call from all the concerned that the old vehicles plying on the streets are hazardous both to the public and environment, the government is preparing to remove public vehicles that are more than 20 years old from the Kathmandu Valley.
According to the government, it is going to ban on such vehicles in a bid to make the transport system safe and reliable for pedestrians and for the environment safety.
Four years ago, then government had tried to ban such vehicles from operating in the valley. But it had relented after transporters urged the government to make alternative arrangements before enforcing such a ban.
Speaking at a programme on 'Air Quality and Transport Challenges in Kathmandu' jointly organized by the Ministry of Physical Infrastructure and Transport and Centre for Science and Environment, India in Kathmandu, Secretary at the ministry Tulasi Prasad Sitaula said the government is making preparations to do away with old vehicles for the sake of public and the environment.
The government is also planning to develop pedestrian-friendly roads and to give priority to mass transit transportation in keeping with a public-private partnership policy.
The government plans to ban vehicles that are more than 20 years old and upgrade vehicles over 15 years as per Euro III standards, he said.
But the government does not have the record of vehicles over 20 years. On the occasion, environment experts said a mismanaged transport system and road construction will put people at risk and pollute the environment.
Various studies conducted on Kathmandu air quality has revealed that air pollution caused by the smoke emission by public vehicles are harmful to human health and causes cancer and various respiratory diseases.
Also the experts and general public are also urging the policy makers and government for environment friendly and large capacity public buses in the metro route.
In order to minimise import of petroleum products, pollution, and manage road traffic, priority should be given to public buses as in the developed countries, said experts.
Apart from the semi-governmental bus service, Sajha Yatayat that resumed its services two years back after stoppage of its services for nearly two decades, all the public vehicles are run under private ownership. As the government has failed to show its presence in the roads, private transporters have been ruling with monopoly.