News
Nepalis cheer up with FIFA World Cup trophy in hometown; Prez first Nepali to hold trophy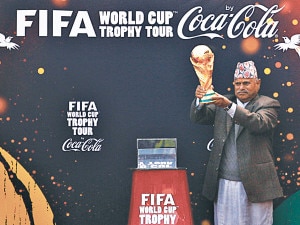 KATHMANDU, Nepal – Huge crowd gathered at the Dasharath Stadium in Kathmandu cheered up with the FIFA World Cup trophy.
The trophy landed here in the Capital on Saturday, the first time since the Trophy Tour began in 2006.
The trophy has been brought to Kathmandu as part of FIFA's plan to take the World Cup trophy to major cities across the world before the World Cup in Brazil, 2014.
The original World Cup trophy arrived at the Tribhuvan International Airport Saturday afternoon and has been put into display at the Dasharath Stadium.
President Dr. Ram Baran Yadav graced the moment at the Dasharath Stadium and became the first Nepali to lift the World Cup trophy. The original trophy is 36.5 centimeters long — 13 cm in diameter and 6.175 kg in weight.
According to FIFA guidelines, the World Cup trophy can only be touched by the winning captain or country's head of the state.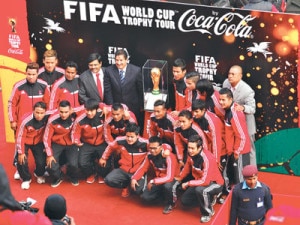 The Tour was developed through an exclusive partnership between FiFa and Coca-Cola, one of the longest-standing corporate partners of the game's world governing body. Fans will have a chance to enjoy a rare close-up view of the authentic World Cup trophy. Other than the special invitees, only those consumers who had won passes for the event through the Coca-Cola promotion were allowed in the stadium.
It is scheduled to take the trophy to India on Sunday.