News
First snow leopard successfully collared in Nepal's Himalayas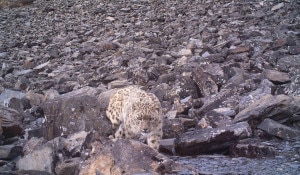 KATHMANDU, Nepal–A first snow leopard was captured and fitted with satellite collars for the first time in Kanchenjunga Conservation Area (KCA) in eastern Nepal, where Mt Kanchenjunga, the world's third largest mountain rises on the Indian border.
A team of The Department of National Parks and Wildlife Conservation (DNPWC), WWF Nepal and National Trust for Nature Conservation (NTNC) successfully collared the leopard in the Area on 25, November 2013.
This is the first time that satellite GPS technology is being used in snow leopard collaring in Nepal and is indeed a new triumph for Nepal in snow leopard monitoring and research sector.
The DNPWC is going to make a brief presentation on the snow leopard collaring and field highlights by a representative from the field team, Wednesday afternoon.
Earlier, conservation officials had informed that the number of snow leopards in the Area has increased in the past two years with the introduction of livestock insurance programme.
According to the latest study, there are as many as 29 big cats, among them 10 are males and 9 females while the sex of extra 10 is yet to be ascertained in the KCA.
Due to rampant deforestation resulting in the loss of its habitat and smuggling of its skin and bones, the snow leopard is one of the most endangered species in the word.
Many national and international organizations are found to be involved in the study of this big cat.
EvK2CNR, an Italian based renowned nonprofit scientific research agency, in collaboration with the DNPWC and Sagarmatha National Park had also conducted research on the endangered animal for many years at Khumbu region.
Experts have warned that the existence of snow leopard may be vanished at any time, if any appropriate measure to save this beautiful creature is not adopted on time.