News
Local throng to temple to avoid 'ominous' after ideal starts sweating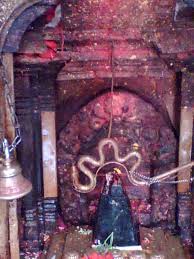 KATHMANDU, Nepal- The local people in Dolkha, an adjoining district of Kathmandu started performing puja and other religious activities to please the god after famous deity sweated, Sunday afternoon. A crowd of villager throng to the idol of the Dolakha Bhimsen in the district to perform religious activities to avoid probable disaster after a priest of the temple said the deity began sweating, clearly a signal of bad omen for the country.
According to David Joshi, the priest at the temple  the idol continuously sweat before turning black at around 2:45 pm, Sunday.
Media reports said the local rubbed the sweat with cotton after a short prayer and handed over the cloth to the Chief District Officer (CDO) who will hand over the cotton to the president Dr. Ram Baran Yadav.
Many ominous events are related after sweated of deity. It is said that Bhimsen's idol sweated before the destructive earthquake in 1990 BS and 2045 BS as well as the beginning of autocrat Panchyat region in 2017 BS. Likewise, the idol sweated before the Narayanhiti royal massacre in 2058 BS, eliminating the dynasty of the then King Birendra Bir Bikram Shah.
Tradition has it that the king used to offer puja to the idol himself after it sweated. The local administration informed the Office of the President to offer prayer by the president as a head state to gratify the god.
Chiefs of the security bodies at the district have met at the Bhimsen temple.