News
Tourism flow goes up internationally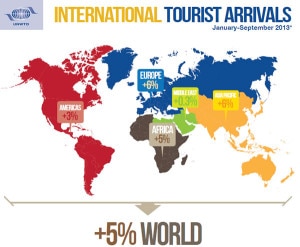 KATHMANDU, Nepal – Though the tourist arrivals in Nepal has been affected by the elections of the Constituent Assembly on November 19 and many speculations of any untoward incidents by disgruntles to foil the polls, tourism flow  has shown a positive growth rate internationally.
International tourist arrivals grew by 5% in the first nine months of the year, to reach a record 845 million worldwide, an estimated 41 million more than in the same period of 2012.
That's according to the latest UNWTO World Tourism Barometer, released on Thursday. Growth was driven by Europe and Asia and the Pacific, both regions seeing tourist numbers increase by 6%.
"International tourism continues to grow above expectations, supporting economic growth in both advanced and emerging economies and bringing much needed support to job creation, GDP and the balance of payments of many destinations," an official website of the organization said quoting its Secretary-General Taleb Rifai as saying. "It is particularly encouraging to see the strong results in many European destinations, where the tourism sector is, undoubtedly, one of the engines of the economic recovery."
In Europe, the world's most visited region, international tourist arrivals growth of six percent was led by above-average results in Central and Eastern Europe (7 pc) and Southern and Mediterranean Europe (6%). This growth exceeds the initial forecast for 2013 and is double the average growth rate of international tourism in Europe since 2000 (2.7% a year between 2000 and 2012).
Asia and the Pacific (6%) continued to show robust results, bolstered by South-East Asia (12%). The Americas (3%) reported comparatively weaker results, with better performance in North America (4%) and Central America and (3%).
In Africa (5%) growth was fuelled by the recovery in North Africa (6%), while the Middle East saw only a marginal increase (0.3%).
Among the top ten source markets, the Russian Federation led growth, with expenditure on trips abroad up by 29% in the first nine months of the year. This follows the strong growth in recent years, as a result of which Russia moved up from the 12th largest outbound market in 2000 to the 5th largest in 2012 (US$43 billion).
China, which became the number one source market in the world last year (US$102 billion), also continued to see rapid growth, posting a 22% increase in expenditure on outbound tourism through September 2013.
Outbound expenditure from other BRIC economies was also strong in Brazil (+5%). The performance of advanced economy source markets was comparatively weaker: Canada (3%), USA, UK and France grew moderately with 2% each, while Germany reported zero growth and Japan, Australia and Italy saw declines in expenditure.