News
Christmas fever grips Kathmandu dwellers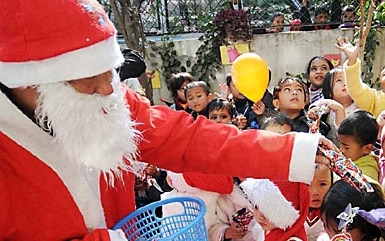 KATHMANDU, Nepal-With hardly two weeks left for Christmas to arrive, its fever has already gripped the people in the capital Kathmandu. People wearing the dresses in the appearance of Santa Claus distributing chocolates and other gift items could easily be seen in the streets of the valley, clearly indicating the Christmas has already entered into houses of people.
Houses, shops, hotels and restaurant of capital have already decorated with the images of Jesus and the Mary.
Sajan Nepal, proprietor of Rosa and Roshan department at Kalanki in Kathmandu said the sale of various decorative and gift items for the Christmas has escalated since a week. 'Many people crowded the shop round the clock to purchase Christmas trees, greeting cards, various crafts and other decorative items,' he said adding the sales of trees and Santa Claus caps have started swelling. According to him, among the Christmas shopkeeper who visited his department, most of them opted for Christmas trees which are sold from Rs. 1000 to Rs 5000, depending on its size ranging from 1 fit to 10 fit.
Sabin Maharjhan, proprietor of a Gift shop at Kupondole in lalitpur has witnessed crowds of people to purchase Christmas gifts for a couple of days. Trees, bells, snowmen, drums and stockings are available for Rs 50 onwards, while Santa dresses begin from Rs 300 to 500 at his shop.  Christmas cap which range from Rs 50 to 200 are in high demand in the capital Kathmandu. 'Santa caps are the most sought after items in the market', he said.
However, some Christmas shoppers are complaining the prices of the items which are higher as compared to the price for the same items last year.
Sellers said decorative items and gifts especially for festive season like Christmas are brought from neighboring China by paying the dollar which has become stronger than the Nepali rupee in recent months.
Not only normal people are crowding the Christmas shop but owners of beauty parlours, star hotels, business complex, and stationary shops are learnt to be demanding for decorative items like Christmas trees and Santa Claus caps.
Seeing the high demand of gift from all walks of life, the Association for Crafts Producers has set up 'Christmas Bazaar' at Dhukuti retail store, Kupondole, aiming to offer handicrafts  and various gift items made up of papers, ceramics among others for the Christmas shoppers.
Hotel and Restaurants are planning to offer discounts and a lot of food varieties during Christmas in Thamel.
The five star Annapurna hotel is going to organize a dinner for diplomats and other personalities in the evening of December 25, the very day Christmas.
With the outset of monarchy in 2006, the government of Nepal in 2011 decided to make Christmas a national holiday.
Though the day is celebrated mainly among the Christian communities in Nepal, however people belonging to other communities have also started showing their inclination.