News
'Tiger corridor' built to facilitate movements of tigers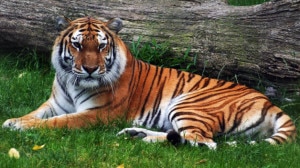 KATHMANDU, Nepal – In a continuation of the government's bid to conserve tiger, a 30km corridor has been constructed on the western part of the country, merging with the Indian territory for safe passage of the animals.
The corridor has been built after identifying possible routes used by tigers to migrate with the help of the Global Positioning System (GPS). It was a part of an international commitment made by the government in its 'Save Tiger Campaign'.
The corridor runs through Shrawasti district in India through Jodmuha and Kalyankot Community Forest, traversing the hills of Ramubadaha to Banbasa in Kapilbastu district of Nepal.
Although tiger sightings were common seven to eight years ago, the number of such sightings has decreased since the outbreak of Maoist insurgency that forces the security posts at such places shift to headquarters due to security reasons. According to a report by the Kantipur daily on Tuesday, the corridor was identified with the help of the locals and a commitment was made for the preservation of the big cats after organizing various awareness programmes and spreading information about the importance of the animals through local FM stations.
As the Indian territory bordering Nepal happens to be a forest reserve and the Shuhelva Sanctuary, a habitat to striped tigers, is located near the district headquarters of Balrampur, the possibility of migration of the animals along the route is high, the report quoted Chief Forest Officer Krishna Prasad Pokhrel as saying.
Striped tigers have been spotted by locals and shepherds on the banks of the Kali river that runs through the thick Ram Laxman Community Forest, near Dubiya-8, suggesting the existence of the rare breed in the area, said Pokharel.
Rampant killing of the animals and smuggling of tiger parts that are used to manufacture beauty enhancement products, lack of proper habitat, and the use of tiger bones to manufacture traditional medicines have resulted in the gradual extinction of the tigers.