News
ICIMOD, Norse govt strikes deal on wide-ranging Climate programmes in HKH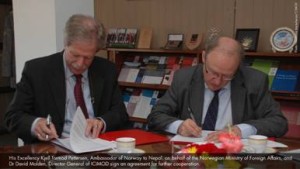 KATHMANDU, Nepal-The International Centre for Integrated Mountain Development (ICIMOD) and the Norwegian Ministry of Foreign Affairs have made a NOK 150 million deal to support ICIMOD in sustainable mountain development for launching wide-ranging climate and development programmes in the Hindu Kush Himalayan (HKH)region.
The agreement was signed by Kjell Tormod Pettersen, ambassador of Norway to Nepal, on behalf of the Norwegian Ministry of Foreign Affairs and Dr David Molden, Director General of ICIMOD.
'The Government of Norway supports ICIMOD's regional programmes that shed new light on climate change, help mountain and downstream people adapt to changes, and build capacity for sustainable solutions,' the ICIMOD states in a release.
Ambassador Kjell said the support was mainly significant in the Himalayan regions, which are experiencing big problems with air pollution, both indoors and outdoors.
The deal is particularly significant in the Himalayan region; Kjell said adding that the increased knowledge and capacity is one of the most important tools we have to mitigate the effects of climate change.
Dr, Molden, Director General of ICIMOD said the support will impact on the ground by informing policy and improving capacities of the regional member countries. He further added other areas of focus include climate modeling, water availability and demand, food security, ecosystem services, and adaptation to change, specifically climate change.
ICIMOD is a regional intergovernmental learning and knowledge sharing centre serving the eight member countries including Nepal, Afghanistan, Bangladesh, Bhutan, China, India, Myanmar and Pakistan.
The centre's aim is to influence policy and practice to meet the emerging environmental and livelihood challenges in the HKH region.
ICIMOD also plays an important role in creating a platform for regional cooperation among the member countries.