News
Training aiming to enhances trekkers' professionalism kicks off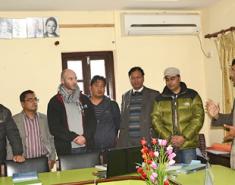 KATHMANDU, Nepal- A training for trekking guides has kicked off at Trekking Agencies' Association of Nepal (TAAN) in Kathmandu from Tuesday.
Twenty-six trekking guides from different member agencies of TAAN are taking part in the four day training programme.
Held jointly by TAAN and High Impact Tourism Training (HITT), the training aims to prepare trained human resources for the trekking sector in the country.
Speaking on the occasion, TAAN President Ramesh Dhamala informed TAAN has been organizing number of training activities to enhance professionalism of trekking workers. 'I am confidence that the training will be crucial to keep the clients safe and happy,' Dhamala said asking the participants to implement in practice what they have learnt in the training.
Dhan Prasad Gurung, coordinator of TAAN's Training and Human Resource Department said they would keep on designing and organizing trainings based on the need of the member agencies. He asked the participants to share knowledge they obtained during the training to other trekking fellows.
Tanguy Cariou, international associate advisor of HITT under SNV Netherlands, expressed confidence that the training will be fruitful for trekking guides asking to latter to implement what they have learnt in the training while taking clients on trekking.
Chandra Niroula, Chandra GT, Sunil Gurung, Jayanath Bhandari, Govinda Shrestha, Machhindra Acharya and Gelbu Tshering Sherpa are facilitating the training. The facilitators are the graduates of the training of trainers (TOT) organized jointly by TAAN and HITT/SNV Nepal.