News
NAST playing crucial role in scientific development: Chairman Regmi
KATHMANDU, Nepal-Chairman of the Council of Ministers, Khil Raj Regmi, said Nepal Academy of Science and Technology (NAST) has been playing a crucial role in the development of science and technology in the country.
Addressing a programme organized to mark the 31st anniversary of the NAST at Khumaltar, Lalitapur, on Thursday, chairman Regmi said the government was committed to the development of science and technology. He stressed the need for the scientific expansion for the welfare of the people in the grass root level.
'The significance of the NAST was growing day by day', he said adding 'Attempts are being made to furnish the government offices with scientific and technological system.'
On the occasion, Minister for Science, Technology and Environment, Uma Kant Jha, said though the government could not invest significantly in the science and technology in the past, NAST is comparatively playing better role.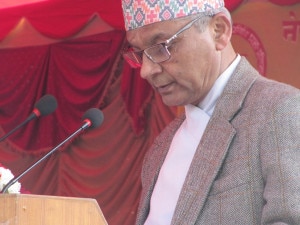 Nepal Academy of Science and Technology, Prof Dr. Surendra Raj Kafle said NAST is yet to do many things to promote science and technology in the country. He also informed that NAST was cooperating on international organization in the study like high altitude research, climate change, seed banks among other sectors.
On a different note vice-chancellor Kafle said science learning center established in the premise of academy coulnot play the role as expected by the academician and scientist due to the lack of required resources and fund.
At the function, Chairman Regmi conferred the Science Award to Prof Dr Ram Prasad Chaudhari, and Technology Award to Mrigendra Bahadur Shrestha, and the Youth Science and Technology Award to Dr Bikas Lal Shrestha.
Various other scientists and technologists were also honoured at the programme.
The government had begun marking the Science Day on Asoj 1 (2nd week of September) since last year.
Various scientists, academia, representative of scientific organizations among other dignitaries took part in the programme.