News
Kathmandu ranked top rising destination in travelers' choice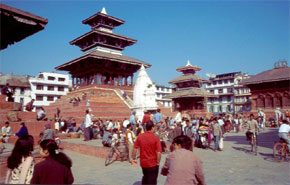 KATHMANDU, Nepal – Kathmandu has been ranked third in Trip Advisor's Traveler's Choice for destinations on rise in the world and has emerged as the top rising destination in Asia.
Trip Advisor, an international travel site, revealed the top ten winners of its Traveler's Choice 2013. The list is based on reviews and votes of travelers. The "destinations on rise" category rates the places that have seen the biggest increase in positive reviews from travelers on the site over the past year.
"Kathmandu is mystical and magical place, a trove of ancient structures that are enveloped in folklore," Trip Advisor describes the city. The site claims to have over 260 million unique visitors monthly and operates in 34 countries, including China.
Nepal Tourism Board has welcomed the ranking saying that this would help promote the country's tourism business.
Kathmandu is the only destination to make it to the list from south Asia. Other destinations from Asia include Isreal in the fourth place, Sapporo of Japan in seven and Hanoi of Vietnam in the eight place. Kathmandu has also been named the best backpack destination by Australian travelers in the site.
In 2012, over 800,000 travelers came to Nepal by air alone. Statistics show that tourist arrivals have increased gradually in 2013 month to month comparison.
Trip Advisor's Top 10 Destinations on the Rise in the World:
In the list Havana, the capital city of Cuba is in the top position followed by La Fortuna de San Carlos, Costa Rica in the second. Likewise, Cusco, Peru has been placed in the fifth place followed by Ambergris Caye, Belize in seven, Corralejo of Spain in the ninth and Fortaleza, Brazil in the tenth position.