News
Big cats creating terror in human settlements released after capture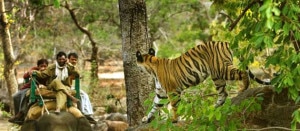 KATHMANDU, Nepal-Tiger, snow leopard, wild tusker entering the human settlement and creating terror to people after making prey to domestic animals is a common phenomenon in most of the hilly region of Nepal and even in the southern belt. In the latest event, two big cats have accidently entered into the human settlement from the nearby park, creating terror to the villagers in western region of Nepal.
Two adult tigers from Chitwan National Park, situated nearly 130 kilometers south-west of the Capital Kathmandu entered to the human settlement and created panic to the locals in the daylight just a few days ago, according to the newspaper reports. According to the locals as quoted by the newspaper, among the beasts, one had frequently roamed into the village and had hunted half a dozen cattle from various sheds.
The beast was captured on last Monday by the park officials with help of villagers while it was making prey domestic cattle. Parks officials had simply trapped the beast and it sustained minor injuries while taking it under control. The Park officials have been providing necessary treatment to the beast that was wounded in course of capture.
Likewise, another radio-collared male tiger that had entered the human settlement over two weeks ago was also captured from Ganeshganj village in Ayodhyapuri-7 and later released into the dense jungle inside the park. According to the villagers, the big cat had been creating instant terror in the settlement along with killing dozen more cattle in the locality. The radio-collared tiger was captured on Thursday.
Experts have of the opinion that lacking in food in the forest prompted the wild beasts to encroach human settlement.
Out of the total 198 tigers in the country, CNP lodges 120 tigers according to the last census that was made public on the occasion of Tiger Day.