News
UCPN (Maoist), others shun EC meet with parties on PR seat allocation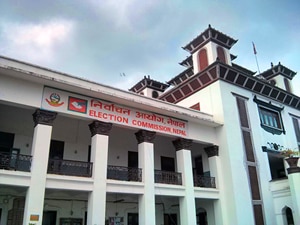 KATHMANDU, Nepal – Though the Election Commission (EC) was scheduled to wrap up the constituent assembly election procedures by allocating seats garnered by political parties in the Proportional Representation (PR) category on Tuesday morning, the process hit snag after the disgruntle political parties including the Unified CPN (Maoist) boycotted the programme.
The Election Commission (EC) has called an all-party meeting today at 11am this morning to announce the final number of votes in the PR category and the allocation of PR seats in the Constituent Assembly.
However, UCPN (Maoists), and 15 other parties, have announced that they will not attend the meeting called by the EC. A meeting of the dissenting parties held on Monday evening at the UCPN (Maoist)'s central office decided to boycott the meeting called by the EC until a high-level independent commission was formed to probe into the November 19 CA polls rigging.
The meeting had also decided not to submit the name lists of the candidates under the PR electoral system and not to take the oath of office and secrecy.
According to Bir Bahadur Rai, the EC spokesperson, a total of 94,63,862 valid votes were cast under the PR system.
About 30 parties, who have secured more than 21,000 votes are expected to get seats under the PR. The Nepali Congress has emerged as the largest party, followed by CPN (UML) and UCPN (Maoists).
The commission will give a seven-day deadline to the parties to submit names for the PR seats, and another three days to make corrections.
The EC has not yet responded to the decision of the 16 parties to boycott the meeting.