News
Scores migrant workers' dreams shattered at TIA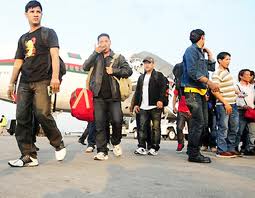 KATHMANDU, Nepal-Due to the negligence on the part of immigration officials at the Tribhuvan International Airport (TIA), over 450 Nepali migrant workers were stopped from flying to the gulf countries in the past few days.
The officials laid claim the workers missed a few essential documents that they now required to left for the gulf countries, as per the new provision for which the miserable workers expressed their ignorance.
Migrant workers and their agents have been complaining that they were not informed about the so called 'new provision' and the 'official decision' in the immigration laws that were made without the consent of authorized agencies and demanded the appropriate compensation for them.
However, some of the Kathmandu based manpower agencies blamed that the immigration officials' move to bar the workers from flying was just a greed for additional amount rather than genuine reason.
'The immigration officials wanted extra charges from the agents initially, but as the latter declined for the same the former stopped the  innocent workers from flying and officials are now pretending of new provision that was not heard even three days ago,' a Kathmandu based manpower agent told this portal.
'I lost thousands of rupees that was paid out for the air fare, visa service charge, local transportation, including food and lodging' migrant worker Shyam Basnet who returned back from TIA on Monday midnight complained with tears rolling on his cheeks. Father of two teenage sons, Basnet who had already toiled in Malaysia represents from a remote village of Makawanpur, an adjoining district of Lalitpur.  He further complained that the workers like him have been turned away from TIA though they carried valid e-visas. However, the officials are claiming that the visas obtained by the workers were not in the standard form.
Likewise relative of Basnet and another migrant worker Ramesh Khadka, 29, who was held by the officials until 12.30 pm and subsequently sent back said, 'Even though I had submitted the valid documents, immigration officials held me up citing I was not qualified to board flight with the e- visa which I had taken with me.' Khadka who was scheduled to fly at 11 am on Monday said he was stopped for no apparent reason.
Just a month ago, the Commission for Investigation of Abuse of Authority (CIAA) had detained dozens of immigration officials for accepting grafts from the manpower brokers and weeklong lingering the workers queuing up in the Department of Labor under the Ministry of Labor and Transportation Ministry.
In the meantime, it is learnt that the government is said to have investigating over the issues.