News
Climbing competition at Himalayan Climbing and Training Center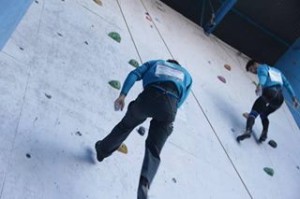 KATHMANDU, Nepal-Nepal Mountaineering Association (NMA) in coordination with park Young Seok Foundation and the Northface recently held 1st Park Young Climbing Competition at Himalayan Climbing and Training Center, Balaju Kathmandu.
The competition held in speed and lead category was funded by the park Young Seok Foundation and the Northface on the occasion of birth anniversary of Park Young Seok. All together climbing 22 team including male and female climbers had taken part in the competition, according to NMA.
South Korean's climber Park was a record-holding mountaineer who disappeared on Mt. Annapurna in October 2011 while setting a new route and in his memory the foundation is planning to organize the competition annually.
Nim Doma Sherpa stood first to win the competition while Pancha Maya Tamang and Yangdi Sherpa bagged second and third position respectively under the women category.
Likewise, Dhurba Bista became first under the male category and was followed by Pramil Man Shrestha and David Christhopher James Smith to hold second and third position in the competition.
Tourism Minister Ram Kumar Shrestha and the International Mountaineering and Climbing Federation (UIAM) president an immediate past president of  NMA Aang Tshering Sherpa jointly distributed cash prizes, certificates to winners amidst a programme.
There are a lot of opportunities in Nepal to develop this sport," said Ang Tsering Sherpa, adding "We are confident that in future our climbers will contribute in sports climbing."
NMA plans to make Park Young Seok Climbing Competition an annual event and promote artificial climbing in Nepal.
On the occasion Minister Shrestha refreshed his old version that the government was committed to provide necessary support to the climbers.