News
Govt sings plane procurement pact with China, finally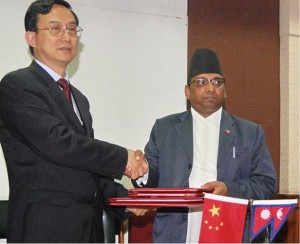 KATHMANDU, Nepal – The government has signed an agreement to purchase four aircraft built in China Thursday.
The Ministry of Finance signed the bilateral agreement with the Chinese side that pledges to provide a grant and concessional loan assistance of Rs 6,671 million for Nepal Airlines Corporation to acquire and purchase six aircraft from Chinese aircraft manufacturer Avic International.
Finance Secretary Shanta Raj Subedi and joint secretary at the ministry Madhu Kumar Marasini signed agreements with ambassador of China to Nepal Wu Chuntai and deputy general manager of Export-Import Bank of China Gao Bing, respectively.
As per the agreement, two of the planes will arrive within three months and join the carrier's domestic fleet which now consists of one vintage Twin Otter.
Of the total assistance, Rs 2,943 million will be used to acquire one MA60 and one Y12E aircraft on grant and up to Rs 3,728 million will be used to purchase one MA60 and three Y12E aircraft on loan.
The concessional loan will be extended to NAC for the purchase of the aircraft. The loan is for 20 years with a grace period of seven years and the interest has been set at 1.5 per cent.
Meanwhile, aviation experts are skeptic on effective use of Chinese aircraft in the national flag carrier's fleet as the MA60 aircraft have been involved in at least 11 accidents since 2009.
On June 10, an MA60 crash-landed at an airport in Indonesia, injuring two passengers; on the same day, an MA60 skidded off a runway in Myanmar.
A report by the Himalayan Times said, "Earlier this year, the New Zealand government put on hold its tourism support programme worth $8 million for Tonga after the country's airline company, Real Tonga, launched its service using the aircraft gifted by the Chinese government".
Considering the same facts, the European Commission has discussed with the CAAN officials and Nepali domestic airline operators about air safety and suggested not to procure the China-made planes as the aircrafts has 'several security lapses because of its US's Federal Aviation Regulations, Part 25 non-compatible design' .
Yet the Cabinet on November 14 had given its go-ahead for the government to sign loan and grant agreements with China to procure six aircraft for the national flag carrier. CAAN recently extended a type certificate to the aircraft. CAAN Director General Ratish Chandra Lal Suman had earlier said that the Chinese Civil Aviation Regulation 25 is similar to the provision of US Federal Aviation Authority.
A type certificate is issued to signify the airworthiness of an aircraft's manufacturing design. Once it is issued by the regulatory body the design cannot be changed.