News
Human error to blame for Jomsom aircraft crash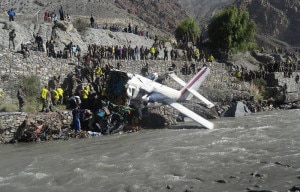 KATHMANDU, Nepal-A commission formed to probe into the May 16 aircraft crash belonging to Nepal Airlines Corporation in  Jomsom of mountainous Mustang district has found  'human error' as the major factor behind the accident.
"The accident took place due to the ignorance on the part of the pilot as the latter ignored the instruction given by the tower," In the final draft report submitted to Minister for Culture, Tourism and Civil Aviation Ram Kumar Shrestha Tuesday, the commission has said.
Prior to landing, the tower in Jomsom had directed the pilot to land on Runway 24 as tail wind at that time was recorded at 8-12 knots, which was higher than the normal of five knots. However, while the pilot ruled out the request as directed by the tower, the plane plunged into the Kaligandaki River, close to airport, injuring twenty-two passengers on board including eight Japanese nationals.
The accident had left the pilot, co-pilot and a passenger seriously injured, while the air hostess and six other passengers sustained minor injuries.
The plane then had blanket a distance of 705 feet on the grassland and entered the runway for the second attempt before the crash. The pilot then tried to take off but unfortunately the speed was not sufficient to haul up the aircraft. It then hit the nearby barbed fence and fell on the banks of the Kaligandaki River.
'The most probable cause of the accident is inappropriate short take-off and landing procedure carried out by the pilot-in-command during the landing phase and an attempt to take off again without sufficient airspeed, lifting force and runway length to roll', the report reads.
The government had constituted a four-member probe panel under Ram Prasad Neupane, former director general of the Civil Aviation Authority of Nepal to find the cause behind the crash and suggest preventive measure air crash in future.
According to report chief pilot Dipendra Pradhan and co-pilot Suresh KC had successfully accomplished the first flight on Pokhara-Jomsom route on the day of the accident, even though it was delayed by an hour-and-a-half due to bad weather conditions. However,
'Initially, the co-pilot responded to the tower saying the flight would land on Runway 24 as directed. But the pilot-in-command took over the communication set and requested for landing on Runway 06,' says the report adding, 'the tower reminded the pilot of the prevailing wind condition, but he confidently requested for Runway 06.'
'The pilot's decision to select Runway 06 in tail wind situation was against the short take-off and landing procedure and the company's standard operating procedure," the report further says.