News
Campaigning for CA polls end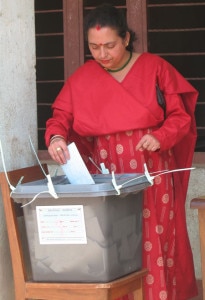 KATHMANDU, Nepal-Campaigning for November 19 Constituently Assembly (CA) election in Nepal ended on Saturday midnight with candidates, including leaders of major political parties, spending the times  in their constituencies in the backdrop of the ongoing transport strike called on by CPN-Maoist led anti polls alliance, which is opposing the elections through its violence activities for the last two weeks.
According to Election Commission, over 12 million voters are registered to vote to elect 575 lawmakers for the 601-member constituent assembly on Tuesday. The government would nominate remaining 26 candidates from the social, political among other sectors for their outstanding contribution in the nation.
All together, 240 members will be elected through the first past the post system in 240 constituencies while remaining 335, would be elected on the basis of the proportion of the votes their parties get.
In the last Constituent Assembly polls held in 2008, United Communist Party of Nepal (Maoist) had succeeded to garner  130 seats to emerge as the biggest party, followed by Nepali Congress (33 seats) and CPN-UML (30 seats) to become second and third respectively under the first past the post system .
However, observer, this time suppose that no party would be able to get a clear majority in a mixed election system after the division in United Maoist party.
Nepal's Election Commission does not allow opinion polls during the run up to the election.
The first constituent assembly was eventually dissolved during the United Maoist led colligation government under the Premiership of Maoist leader Dr. Baburam Bhattarai last year as political parties failed to reach consciousness on the basis for a federal system and number of federal units even after four years.
The polls are being held amidst tight security despite of disrupting promise by poll opposing 33-party alliance.
There have been arsenic attacks on candidates as well as on vehicles defying the transport strike for a couple of days leaving dozens people injured across the nation.
In the meantime, former U.S. President Jimmy Carter has arrived in the Capital Kathmandu on Saturday morning leading a delegation to observe Nepal's Constituent Assembly election.
The Carter Center is observing the polls at the written invitation of the Election Commission of Nepal and IEC chair Regmi.