News
Thousands of children being spread in polls campaigning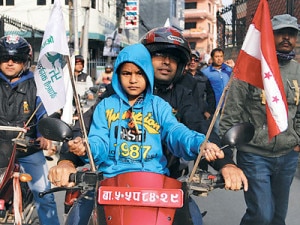 KATHMANDU, Nepal-Though the major political parties have theoretically agreed not to mobilize children during the polls campaigning, thousands of children are being spread for November 19 Constituent Assembly (CA) polls.
A new report released recently by the Central Child Welfare Board (CCWB) said over 6,000 children are estimated to have been used in the campaigns of various parties so far.
School children have been engaged in election rallies, assemblies, distributing political parties' poster and publicity materials as well as door-to-door campaigns calling for votes for the candidates.
The report was prepared after studying the cases obtained by the monitoring teams of the District Child Welfare Committee in 75 districts.
'Our offices in various districts have reported to us that studies have been hit hard in many schools as their premises have turned into venues for political assemblies,' said Tarak Dhital, executive director of the CCWB.
According to the report, more than 50 schools were used for the assemblies of political parties while a few students were injured in political clashes. Children's deployment is comparatively higher in rural belts than in the towns.
In the meantime, the Election Commission (EC) has expressed its serious concerns over the use of children in polls campaigning.
EC spokesperson Bir Bahadur Rai, is learnt to have inquired with the Ministry of Women, Children and Social Welfare after receiving complaints.
The Convention on Rights of Children and the Election Code of Conduct prevents using children in election campaigns.
Experts opined that the using of children was not only the breach of the election code but a violation of the rights of children.