News
Khumbu dwellers experiencing changing weather patterns over decades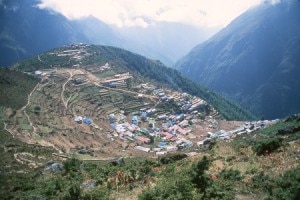 KATHMANDU, Nepal-Locals residing at Khumbu region of mountainous district Solukhumbu in eastern Nepal are really experiencing changing weather patterns over the past decades. A study carried out in three villages, believed to be at high risk of climate-induced disasters in the district, revealed the bitter but real experiences, which are consequences of what have been described as impacts of climate change in Himalaya by the scientists.
The study carried out among the locals of Namche, Khumjung and Chaurikharka further disclosed that the Khumbu folks have been experiencing longer winter period and and summer is getting hotter.
According to a preliminary report of the study, snowfall is beginning late but getting longer with cloudy season while the frost is starting earlier but there is no change in duration in what could be dubbed as yet another assertion that climate change is real.
According to Shailendra Thakali, the team leader of the study, they compared the locals' past experiences with present by means of scientific tool known as 'seasonal calendar analysis' in a bid to review the folks' experience of climate change in the Khumbu region.
'The outcomes of the study were as expected. The locals are experiencing changes in weather patterns, which scientists have described as effects of climate change', Thakali said.
According to him, another scientific tool popularly known as timeline analysis was also applied to weigh up the occurrence and frequency of climate-induced disasters and its consequences the villagers endured.
The team found out that the locals have faced altogether 10 major water-induced disasters, including two Glacial Lake Outburst Floods (GLOFs) in the region over the past decades.
Likewise, incidents of,  avalanches, windstorm, landslide and forest fires as well as previously unknown pests and disasters are on the rise, the locals told the study team.
The study was conducted with the support of Adaptation Plan of Action(LAPA) for the whole Khumbu region.