News
Govt uphold tight security to foil nationwide strike, army deployed in Capital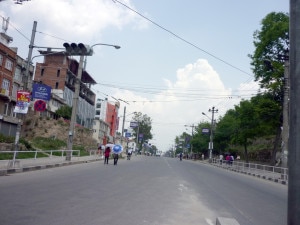 KATHMANDU, Nepal-The government of Nepal  has maintained tight security situation in the Capital Kathmandu and other places of the country after the 33 parties anti election alliance led by CPN-Maoist Baidhy faction called on nationwide strike on Monday and  10 days chhakajam  (vehicle strike) beginning today, aiming to foil the upcoming  Constituent Assembly (CA) polls scheduled on 19 November.
The cadres of the agitating political parties have torched four vehicles at Koteshwore in Kathmandu at the wee hours, today, though the security personnel including Nepal armies were deployed in the streets. All police unit were set out for for pre-dawn patrolling to prevent any untoward incident and assist transport entrepreneurs in operating their service without any obstruction for the transportation of milk, vegetables and other essential commodities.
The Cabinet-level Essential Service Operation and Management Committee has been formed under the convener ship of Home Minister Madhav Prasad Ghimire to strengthen the security arrangement and operate transportation as usual despite of bandh. However, vehicles have remain off the roads and streets wear deserted look while all the shops, schools, business houses, industries have been closed irrespective of the bandh .
The committee has asked all office bearers of all security mechanisms under the Ministry of Home Affairs and all security agencies to boost up securities and made it mandatory for all civil servants in the ministries and government offices to attend their respective offices and operate their vehicles to make the service delivery regular.
In the meantime, the National Human Rights Commission (NHRC), the Federation of Nepalese Chambers of Commerce and Industry (FNCCI) and the Professional Alliance for Peace and Democracy (PAPAD),  among various organizations have been pressing the anti-polls alliance to withdraw the strikes.
Two dozens bandhs organizers were rounded up from the various places of Kathmandu, according police.