News
Panel asks govt to seek alternative route to Mt. Cho Oyu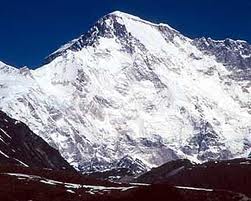 KATHMANDU, Nepal- A committee constituted to recommend on the revision of mountaineering royalty and adoption of necessary measures to make Nepal's mountain tourism productive has asked the government on Thursday to seek an alternative route to Mt Cho Oyu, the 6th highest peak in the world. "As Cho Oyu is difficult to climb and receives fewer climbers, an alternative route should be arranged from the Tibet side to make it more popular," the panel suggested.
The 8,201m Cho Oyu lies on the Tibet-Nepal border.
The panel has also recommended naming new peaks, the peak point and base camps after veteran mountaineers and geologist like Goerge Mallory, Andrew Irvine, Tenzing Norgay Sherpa, Edmund Hillary, Phu-dorjee Sherpa, Maurice Herzog, Luis Lachenal, Apa Sherpa and Dr Harka Gurung, who have made a special contribution to mountaineering.
Among the recommended names, eight are mountaineers, while Gurung was a geologist and anthropologist, known for his conservation work. The report has recommended the government make efforts for international recognition of peaks above 8,000m.
32 New Peaks for Commercial Expedition
The panel has also suggested opening up 32 new peaks for commercial expedition and recognizing five new eight-thousanders. It has recommended making an official reorganization of five peaks that are above 8,000 metres.
The recommended eight-thousanders are Yalung Khang (8,505 m), Kanchanjunga Central (8,473 m), Kanchanjunga South (8,476 m), Lhotse Middle (8,413 m), and Lhotse Shar (8,400 m).
Garbage Management Fund
Likewise, the panel has also recommended establishing a garbage management fund and involving public, private and community in mountains clean-up campaign.
It has asked the government to monitor a number of mountains on border points that are not opened from the Nepal's side, but are being climbed from neighbour countries.
Around 222 mountains that lie on the border should be accorded high priority and importance, the report read.
The panel said activities in the name of making records were damaging the image and importance of peaks. It has suggested setting up standards for recognising records made by climbers, and the climbers need to make pre-application on their record plans.
The panel has also suggested the government to open the doors for the private sector for promotional activities of popular mountains for a limited period under a contract.