News
'Bird Man' raises awareness on nature through 'Crow Conference'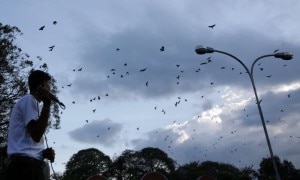 KATHMANDU, Nepal-A young man with a small microphone takes a sit on a chair at a small stage and cawed like a crow. Minutes later, hundreds of noisy birds besiege him, some rest on nearby trees while a few sat on the roofs of houses, amazing the crowd at a show dubbed as the 'Crow Conference'. The crows fell silent before vanishing into the sky before dusk.
Gautam Sapkota, popularly known in Nepal as "Charidada" or 'Bird Brother', then imitates the numbers of other birds and instantly the flock of birds also appear close to him.
'Normally I request the birds to come, sit, be quiet and after some time they fly away,' said Sapkota, a 30-year-old man who has been performing 'crow conferences' at schools since 2005, in a bid to raise awareness about nature and the conservation of the birds.
A school drop-out, Sapkota, a self-proclaimed 'crow caller', claims that he can imitate the sounds of 251 kinds of birds and wishes to write his talents on Guinness World Records. Furthermore, he is planning to release an album that remixes Nepali songs with the sound of a crane, hoping the song will help convey the message of conservation in the country.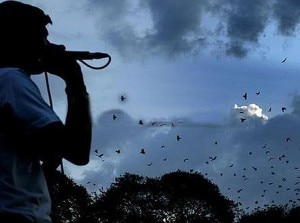 By making numerous records of the birds, he also wants to conserve the sounds of birds that are on the verge of extinct.
The latest show in the capital Kathmandu concurred with the Hindu's festival of crows, which are worshiped as messengers from heaven. Crows are also regarded as scavengers that help to keep the environment clean.
According to Hindu belief, the crow is a harbinger of fortune and bad luck.
Sapkota has performed 3,200 bird conferences so far in 66 districts of Nepal, has also received dozens of prizes from various conservation groups including WWF Nepal.
Conservationists in Kathmandu has alarmed that 149 of Nepal's 871 bird species face the threat of extinction.