News
Candidates using social sites for poll campaigning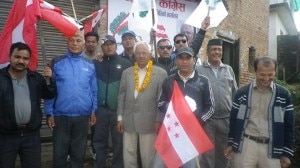 KATHMANDU, Nepal- Capitalizing on the social media platform, many candidates contesting the upcoming polls have bolstered their electoral campaigns using facebook instead of traditional means such as flyers, posters and wall paintings.
The candidates, especially of the major political parties, including the UCPN (Maoist), Nepali Congress, the CPN-UML, have not only asked for votes via facebook but also used it as a platform to explain to voters why they should win the election and their party´s policies and programs. Also, parties have started their official facebook pages and their separate websites to make public their plans, policies and election manifestos.
NC youth leader Gagan Thapa, who is contesting election from constituency number 4 of Kathmandu district, has a separate facebook page, which he updates regularly with details of events concerning election campaign. While NC leaders Ram Chandra Poudel, Ram Sharan Mahat and Nara Hari Acharya have their personal website, most other NC leaders including Mahat, Arjun Nara Singh KC, Gagan Thapa, Dhan Raj Gurung, Chandra Bhandari, Badri Pandey have extensively used facebook as a means to reach out to voters as well as well-wishers.
Likewise, Baburam Bhattarai, Devendra Poudel, Himal Sharma, Post Bahadur Bogati, Barsha Man Pun, Hem Raj Bhandari are among the UCPN (Maoist) leaders who are active in social media. Likewise, Shankar Pokharel, Rabindra Adhikari, Ram Nath Dhakal, Yogesh Bhattarai, Ghanashyam Bhusal, Ghanshyam Khatiwada and Arun Nepal of UML have become more active in social media in recent days as many youth leaders belonging to various Madhes-based parties, Rastriya Prajatantra Party-Nepal and other newly-formed parties.
Although many youth leaders have begun using social media including twitter for election campaign, social media experts say the leaders have not been able to fully exploit the potential that social media offers. "Political parties and leaders concerned do not seem to have realized the strength of social media like facebook yet. Even those using it seem to be using only as means of publicity, but not as a means of communication [with voters]," argued social media expert Ujjwal Acharya.
According to a rough estimate, there are about 3.2 million facebook users in Nepal. While 75 percent of these users belong to 18-35 years age group, most of remaining other users belongs to over 35-year age.
The country is having the second elections for the new Constituent Assembly on November 19, 2013.