News
Lukla flights to get snag as CAAN directs airlines to fly only from their airbase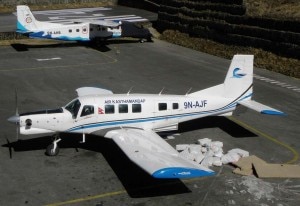 KATHMANDU, Nepal- Tourists heading to Lukla, the gateway to Mount Everest are likely to hit hard by flight crunch as the aviation regulating body in the country directed single engine aircrafts to operate only from their designated airbases.
The directives by the Civil Aviation Authority of Nepal (CAAN) is likely to hamper flights that are operating in the Kathmandu-Lukla sector in the peak tourist season of October and November.
This time the CAAN has presented itself more strictly after it found many airline companies operating in different sectors of lucrative business other from their own airbase.
Following the fresh directives of CAAN such airlines stopped their flights to Kathmandu-Lukla-Kathmandu sector on Monday and Tuesday.
As per the CAAN rule, airline company should operate its flights being based in their airbases. Such airlines could make a flight to any destination within the country from any airports but could not operate flights with a night stay there.
But, CAAN officials said different airline companies authorized to fly to western district being based on Nepalgunj and Surkhet start operating in Kathmandu-Lukla sector being based on Tribhuvan International Airport (TIA) here.
Single-engine Air Kastamandap and Makalu Air are operating flights in Ktm-Lukla sector owing to the peak tourist season there leaving their original airbase at western districts of Surkhet and Nepalgunj respectively.
The companies have been operating at least five daily flights in the Ktm-Lukla sector. But after the CAAN's directives on Monday their flights were disrupted.
Two double engine airlines Tara Air and Sita Air are operating flights in the sector. While Tara Air makes up to 36 daily flights to Lukla from Kathmandu in tourist season with its all nine airlines, Sita Air is flying with its only aircraft.
The CAAN has authorized the single engine airlines to operate flights being based on regional airbases.
"Every airline companies were given an airbase and they can operate flights throughout the country being based on the same," Director General of the CAAN Ratischandra Lal Suman,said, adding, "But CAAN has to present itself more strictly after some airlines start flights from other airbase".
"With TIA having more air traffic, the problem raises much after the single-engine aircrafts start flights being based here," Suman said, adding that the airlines have to hold in the sky, while problem has also aroused in Lukla airport.
According to Suman, such airlines have to return to their respective airbases within a week. The airlines henceforth could not operate flights after they spend a night at other airports. "However, they can fly to any destinations within a day," Suman informed.
According to CAAN, three single-engine airline companies – Air Kastamandap, Makalu Air and Goma Air- are operating scheduled and chartered flights at different sectors in the country.