News
Child marriage still pervasive in Nepal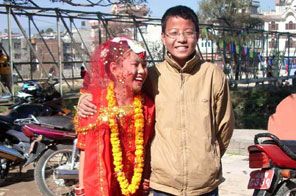 KATHAMNDU, Nepal-Child marriage and child mortality rate are higher in the various districts of mid-west and far-western region of Nepal, experts warned.
During a programme in the Capital Kathmandu, experts said that lack of education, religious, superstitious and poverty are to blame for such age-old tradition despite no religion in the world advocates child marriage directly.
On the concluding ceremony of the meeting on 'Child Marriage and Religion', they further informed that child marriage in the SAARC (South Asian Association of Regional Countries) is recorded higher than other countries.
During the programme, Representative of UNICEF Nepal Hanaa Singer said that tying nuptial knot of a girl child at early stage has not only affected in their psychological development but also invite long lasting problem in the society they live in.
'A girl married before she completes her education is forced to live in poverty, and so will her children, and grand-children,' she added.
Likewise, Deputy Representative of UNFPA Catherine Breen Kamkong said that role of religious leaders was crucial to curb child marriage stating that their support would be essential to save the lives of women who might become mothers during their adolescence.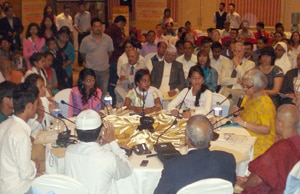 Presenting his paper on 'Marriage and Child Marriage from Christian Perspective', Pastor Dr. KB Rokaya said that there is no room for child marriage in the Bible and Christianity adding that Christian community are strongly favor of eliminating the roots of social evils like child marriage.
Similarly, social worker and educationist Angur Baba Joshi opined that child marriage was increasing with the backing of religion due to social, geographical and cultural conditions though no religion recognizes the child marriage adding that many female scholars with well-versed in the principles of religion are needed to interpret the scriptures in female-friendly perspective as marriage has been held with reverence within the fold of religion.
According to the national census 2011, nearly 11 per cent children get married before the age of 14 and 29 per cent of girls aged 15 to 19 years while 7 percent of boys are married before they turn 18 years in Nepal.
The meeting also concluded with a decision to continue campaigns against child marriage until Nepal was declared a child-marriage free country.
Nepal holds 8th position among the countries worldwide to have high frequency of child marriage according to 'The status of the World's Children-2011', made public by UNICEF.
Child marriage has been found deep-rooted in various communities residing in mid-west and far-western region beside terai region. There is a tradition among the people of these regions that parents will be cursed if they do not arrange marriage of their children in early age.