News
Lack of adequate flights hit Lukla bound tourists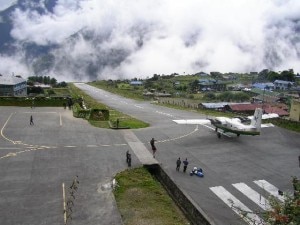 KATHMANDU, Nepal- As only one airline is operating in Kathmandu-Lukla sector, tourists and tour operators planning to make the way to the gateway of Mount Everest this season are likely to face the ticket shortage. The new tourist season is about to begin but trekking operators are facing difficulties in booking flights to Lukla.
At present, Tara Air enjoys monopoly on Kathmandu-Lukla route. And trekking agencies say they have not yet received confirmation of their bookings. Along with Tara, three other airlines – Sita Air, Agni Air and Nepal Air Corporation (NAC) – operated flights in the sector in the last tourist season. But Sita stopped flying after its Lukla-bound Dornier crashed in Kathmandu on September 28 last year. Similarly, Agni Air has been grounded since November last year. State-owned NAC stopped flight to Lukla as it has only one Twin Otter in operation.
Though Namaste Air has announced that it would operate flights before Dashain, that is mid-November, it has yet to receive Air Operation Certification (AOC) from the Civil Aviation Authority of Nepal (CAAN).
Talking to Nepal Mountain Focus page of Montagna TV, Sunil Das Shrestha, said that he had to return from the airport after four hours wait for the flight on Wednesday. Though he managed to go to Lukla opting roadway up to Jiri, Shrestha, an Evk2cnr staff told over phone from Jiri, that he is waiting for the good luck for easy way out to reach Lukla. "Many other returned from the airport and others have also cancelled their tour plans but I have to reach Lukla at any cost so I choose this alternative," he said. "But the choice is not easy though".
Officials of Tara Air said they are trying their level best to fulfill the demand from agencies. The airlines is currently using three aircraft for Lukla and adding one more from Saturday.
Around 70,000 trekkers reach Everest Region every year.