News
Bandh hits daily life in Kathmandu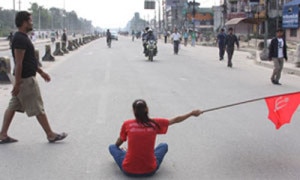 KATHMANDU, Nepal- The 33-party alliance led by CPN-Maoist that are opposing the poll salted for November 19 has enforced a bandh- shutdown strike- in Kathmandu Valley on Thursday September 12, 2013, to exert pressure on the government to fulfill their demands which includes holding an all-party round-table conference and changing the interim government.
Normal life in the Kathmandu Valley, including the capital Kathmandu, Lalitpur and Bhaktapur districts, has been affected badly since early Thursday morning due to the bandh.
Cadres of the bandh enforcing parties chiefly cadres of the Mohan Baidya-led CPN-Maoist are seen obstructing vehicular movement at every intersection. The cadres of the alliance have been demonstrating in different nooks and corners of the valley to enforce bandh. Large numbers of security personnel have been deployed to contain any untoward situation. The bandh enforcers have also vandalized the vehicles for defying bandh.
Shops and businesses in the main market centers and other business areas remain closed while educational institutions also remain shut due to bandh.
With chances of the CPN-M joining the November 19 election waning, the government on Tuesday decided to move on with election preparation while still keeping the doors for negotiations with the poll-opposing parties open.
However, saying that the election that is being carried out without forging national consensus will be devoid of any meaning, the 33-party alliance said they would continue with their protest programmes until the government agrees to create an enabling atmosphere for polls by acceding to their demands.