News
World's highest airport to open next week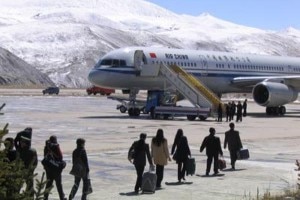 KATHMANDU, Nepal- The world's highest civilian airport will begin operations from September 16 making Tibet the place with such airport in the world.
Located at 4,411 metres above sea level, the airport in Daocheng Yading county, Garzi the Tibetan prefecture in China's Sichuan province, will drastically cut the travel time between the county and the provincial capital of Chengdu from two days by bus to 65 minutes by air, news reports quoting the prefecture tourism bureau said.
"The new airport will surpass the current record held by Bangda Airport which is also located in Tibet at 4,334 metres. It will be the sixth airport in the Himalayan region," the Chinese news agency Xinhua said in its report. The new airport at Daocheng will initially operate a daily route from Chengdu.
According to the report, the cost of a one-way ticket will be 1,600 yuan (259 dollars).
Routes connecting Daocheng with Chongqing Municipality, a southwest Chinese business hub and Maerkang County, capital of Sichuan's Aba Tibetan-Qiang Autonomous Prefecture are expected to open before October 1.
Routes connecting the county to the mega-cities of Guangzhou, Shanghai and Xi'an are expected to open in 2014.
The airport is 159 km from Yading Nature Reserve in the eastern part of the Qinghai-Tibetan Plateau.
Famous for its natural scenery, Yading is known as "the last Shangri-La" and "the last pure land on the blue planet".
Yesterday, China announced plans to build a seventh airport in the Tibetan region beefing up the infrastructure in the plateau.
Construction will start later this year on the new airport in Dawu Township, seat of Golog Tibetan autonomous prefectural government in Qinghai Province to boost local development.