News
UCPN (Maoist) called-off banda after immense public pressure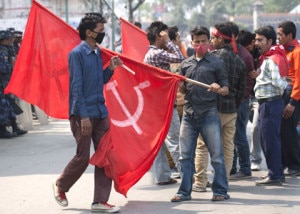 KATHMANDU, Nepal- Normal life since the early Saturday morning has been affected as the Unified CPN (Maoist) called for general strike including Capital Kathmandu.
The Maoist party had called banda in the Capital along with Gorkha and Chitwan districts from 8 in the morning, protesting against the arrest of party cadre Ram Prasad Adhikari in connection with the murder of Krishna Prasad Adhikari of Fujel, Gorkha.
It has been reported that UCPN (M) Chairman Pushpa Kamal Dahal and senior leader Baburam Bhattarai had directed to call banda from 8 this morning.
Adhikari, one of the murder accused was arrested from Dillibazar on Friday. He was later taken to Chitwan late night yesterday for further investigation.
The party, however, has called-off banda from 12 noon after public retaliate with the bandh enforcers at various places in the Capital.
Though public holiday, Saturday, saw the huge movement of people as the day coincide with the eve of Haritalika Teej, the greatest festival of Hindu women. On the day married women use to visit their marital home and eat "Dar"- a late evening supper- and make merry.
Haritalika Teej is the festival in which married women practice fasting and worship Lord Shiva or Mahadev for the good health of their husband and overall prosperity of their family.
Nanda Prasad and Ganga Maya Adhikari parents of late Krishna Prasad Adhikari are on a fast-unto-death since a long time at the Bir Hospital, demanding the case be resolved soon.
Nineteen-year-old Adhikari was abducted from Bakulahar chowk, Ratna Nagar Municipality, in Chitwan on June 2004 by the Maoists and killed the next day. Following threats from the Maoists, Adhikari's family had to flee their hometown of Fujel VDC in Gorkha.