News
165 new peaks get names; to be open for climbing soon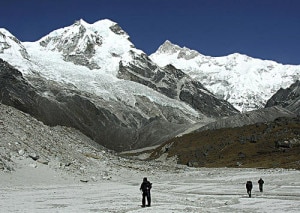 KATHMANDU, Nepal- A sub-committee formed under the Ministry of Culture' Tourism and Civil Aviation (MoCTCA) to study impacts and possibilities to open new peaks for expedition has recommended names of 165 such peaks.
The peaks are expected to be opened for adventure tourism once the government approves recommendations presented by the sub-committee that comprised former president of Nepal Mountaineering Association Ang Tshering Sherpa as coordinator and other mountaineering experts and tourism related personalities as members.
The report includes one 8000-metre mountain' 12 mountains above 7000 metres but less than 8000 metres' 143 mountains which are above 6000 metres but lower than 7000 metres' and nine mountains above 5000 metres.
The sub-committee has submitted its recommendations along with the names of the peaks to the main committee that has been formed under coordination of Purna Chandra Bhattarai' joint secretary of MoCTCA, that will garner approval from the cabinet.
After the peaks are opened for climbing there will be around 491 peaks for adventure tourism and mountain expeditions in the country. Currently' there are around 326 peaks that are allowed for mountain expeditions and adventure sports.
According to the sub-committee' it has finalized the names of the new peaks based on the observation report of the team of experts and frequent interactions and consultations with the local people and mountaineers.
Source at the ministry told Nepal Mountain Focus page of Montagna Tv that the main committee of the tourism ministry is further studying the report submitted by the sub-committee and is preparing to make some changes in the mountaineering royalty.
The 165 new peaks also include the 23 peaks that were selected earlier by the government during the formal opening of the Diamond Jubilee Celebration of the first ascent of Mt Everest.
It has been almost 10 years since the government last announced the opening of new peaks for expeditions. The government had' in 2003' opened 122 new peaks' and later nine other peaks in 2004' but since then no new peaks have been opened.