News
'Settle TIA runway problem before tourist season begins'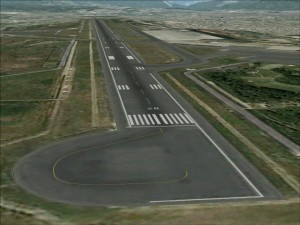 KATHMANDU, Nepal- Hotel Association of Nepal (HAN), the umbrella organization of hoteliers in Nepal has requested the Ministry of Travel and Civial Aviation to resolve problem in the runway of Tribhuvan International Airport (TIA) as the dysfunctional runway could have negative impact on the tourist arrivals.
Stating that the tourist season is at the door step, the HAN called the government to pave way for the hassle free airlines movement at the earliest.
"The government, ministry and the TIA must act on the issue with much seriousness as the tourists visiting Nepal have gone down drastically in compared to the years 2011 and 2012," said HAN in a press statement.
As the country's sole international airport suffered repeated cracks on its runway, raising safety concerns, the ministry, TIA and Civil Aviation Authority of Nepal (CAAN) on Monday had asked all international carriers to find alternatives to their wide-body aircraft flying into Kathmandu.
The ministry and the TIA have asked foreign airlines not to land heavily-loaded wide-body aircraft after potholes were found on the runway last week. The air regulating body has asked the airline operators to choose narrow-body airlines instead wide-body Boeing and Airbus for the time being.   The airlines were also asked to change their flight schedule as most of the wide-body airlines have flights at mid-day time.
Minister for Tourism Ram Kumar Shrestha has also requested the airlines above 250 seats capacity to reduce flying weight up to 196 tonne and reduce cargo weight. Likewise, the ministry through CAAN has called on the airlines to opt options like as to refill fuel in Nepal airport and use catering here among others.
More than two dozen foreign airlines operate regular flights from Asia and the Middle East to Nepal, home to eight of the world's 14 highest mountains, including Mount Everest. Six airlines fly wide-body planes into the capital, Kathmandu.
Meanwhile, the CAAN in a press statement issued Saturday have clarified that it had not banned the wide-body aircrafts in TIA as reported 'in some media'. "The CAAN has requested the airline operators to opt for any possible options in order to cooperate with it for air safety," the state run air regulating body stated in the statement adding that the CAAN has been working to settle the problem at the earliest and a high alert emergency squad has been formed that will be in hi-alert around the clock to cope with any problems.