News
Leopards prey on two dozen villagers in single VDC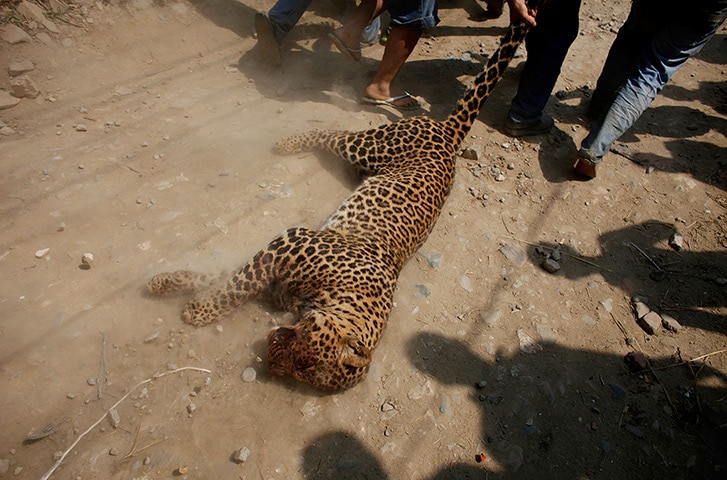 KATHMANDU, Nepal-Leopards preying to human lives after encroaching to their settlements has been escalated in the latest days in Nepal. A total of 22 people,  mostly children have been killed after leopard attack in Baitadi district in the single VDC in Baitadi district within the past one year. The big cats preyed on such a huge number of locals at Bishalpur VDC-2 in the district.
Just a week ago, a leopard preyed on an eight-year-old boy in the area.  The big cat whisked away Dambar Soni, son of Parma Soni, from his house while he was sleeping with his mother.
The leopard entered Soni's room through the window and took away the boy while he was sleeping with his mother. Villagers found some body parts of the boy around 500 meters away from the house Friday morning.
The man eater has mangled two children to death and injured three women in Bishalpur and its vicinity at Talloswarad area in the district within three weeks. According to local, leopards enter the settlements mostly in the evenings and mauled children and women.
Locals complained the leopards used to attack children earlier, but now they target women. Due to frequent attack, the villagers are living in terror and fear-stricken children could not go to school.
The local administration had sent a joint team of Nepal Army, Nepal Police, Armed Police Force, forest employees and experts from Chitwan National Park to the area last year to catch the man-eaters, but to no avail.
'Frequently, leopards enter our houses and attack people. One cannot dare even to go to toilet alone', villagers complained in a single voice.
Villagers said that the authorities concerned always ignored their plight despite repeated requests. The plight of the people living near the forest area is common across the country
The plight of the people living near the park and wildlife reserve area is common across the country.
Similarly, locals living adjoining the National Park and Conservation Areas are constantly living under constant fear since the wild beasts from the parks have making prey to their livestock frequently, in the latest days.
In the meantime, Banke National Park (BNP), the youngest National Park of Nepal has decided to train the people living in buffer zone after it received frequent complain that leopards have been creating havoc in human settlements, adjoining to the Park.
The Park decided to take such measures after the people in the area were living under constant fear as the leopard started entering the human settlement, preying their livestocks.
According to Birendra Kandel, Assistant Conservation Officer  at the Park, they have received information about the leopard preying people´s livestock and are planning to train the people living in buffer zone to make build sheds besides adopting alternative farming to save crops from leopard.