News
106 year old Man finds dream come true in Yeti's fleet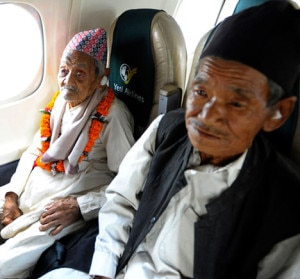 KATHMANDU, Nepal- Bote Rai, a 106 year old man, dreamed about flying 'like a bird in the open sky' before he died. But his dream has not materialized, neither had he imagined of flying as he dreamed.  After hearing about the wish, Yeti Airlines, a leading domestic airline, decided to fly the old man to the capital city Kathmandu and back.
Finally, the centenarian flew for the first time in his life as the birds do.
Rai, who, currently lives in Dhankuta with his niece although being a husband of three wives and 12 children, had expressed his desire to fly to a local publication some days ago.  A social organization was there to visit him not so long ago but he had asked them to help him get on a flight rather than check out on his health condition.
Yeti Airlines flew him to Kathmandu from Biratnagar an eastern city in 35 minutes flight. In Kathmandu, Rai was taken to the Pashupatinath Temple, a Hindu temple dedicated to Shiva.
In his historic and of course unique journey, Rai was accompanied by his nephew Man Bahadur Rai who is himself 75 years old.
Born to an underprivileged family in the hilly district, 106 year old Rai never thought that one day his lifelong cherished dream of flying in a plane up in the sky like a bird would come true.
On arrival at Kathmandu Rai has said that he was very pleased to be on the flight after 106 years. He also said he enjoyed the sweets offered in the aircraft and he did not feel like he was flying while he was in the air. He thanked Yeti Airlines for making his dream come true. '' My wish has come true, but I did not feel like a bird flying or inside an aero plane. Now I have had enough, I want to go home," the Yeti Airlines quoted Rai as saying upon arrival at the airport.
More photos of Rai. [nggallery id=744]
Photos: Yeti Airlines/Getty Images