News
Demand for Kathmandu-Mumbai direct flights for hassle free tourism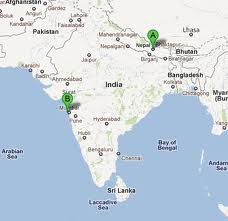 KATHMANDU, Nepal- Tourists, tourism entrepreneurs and travel and tour operators in the Indian business city of Mumbai have called for direct flights joining it with Kathmandu.  They, stating that the interested tourists to visit Nepal are diverted to other countries owing to lack of enough direct flights to Kathmandu have demanded the concerned Nepali side to work on that.
The entrepreneurs of Mumbai lodged their complaints to the members of team of tourism entrepreneurs of Pokhara who are touring India in bid to attract the Indian tourists.
The team is in a promotional campaign led by Nepal Association of Tour and Travel Agents (NATTA).
For now, an Indian private airline, Jet Airways operate direct flights between Mumbai and Kathmandu. Mostly tourists from Mumbai can visit Kathmandu only via New Delhi, which means extra time and hassles.
As there is no other airlines offering a direct flights from Mumbai to Kathmandu, the service offered by Jet Airways is expensive, according to the entrepreneurs.
"We are unable to send interested Indian tourists to Nepal due to limited flights to Kathmandu from Mumbai," the Nepali delegation said quoting Indian entrepreneurs as saying.
"We send thousands of Indian tourists to Thailand and Malaysia. However we can hardly send any of them to Nepal despite our knowledge of attractive destinations in Nepal," they said stressing the need of more direct flights between the two cities.
The state-run Nepal Airlines Corporation used to fly to Mumbai some years back but owing to few aircrafts and tight schedule it cut its Mumbai flights leaving the Indian airline fly in the route. Though Nepali private airlines have their flights up to the Indian cities of Delhi, Patna, Varanasi and Lukhnow, none of them flied up to Mumbai.
According to the statistics of Nepal Tourism Board and Tribhuvan International Airport, Indian tourists occupy the major number of total tourists visiting Nepal every year.