News
BNP to train people as wild cat creates havoc in human settlements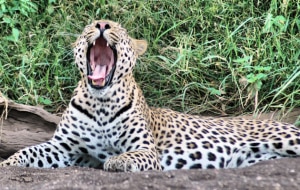 KATHMANDU, Nepal-Banke National Park (BNP), the youngest National Park of Nepal has decided to train the people living in buffer zone after it received frequent complain that leopards have been creating havoc in human settlements, adjoining to the Park.
The Park decided to take such measures after the people in the area were living under constant fear as the leopard started entering the human settlement, preying their livestocks.
"We have received information about the leopard preying people´s livestock and are planning to train the people living in buffer zone to make build sheds besides adopting alternative farming to save crops from leopard,' Assistant Conservation Officer  of the Park Birendra Kandel said.
The villagers of the Khaskushma Village Development Committee are living in constant fear after the leopards started entering human settlements and preying the livestock.
The leopards have prey four goats of the villagers living in the VDC within last two days. 'There are many villagers who have lost their livestock due to leopards' attack,' a local teacher Lekh Raj Oli lamented adding that they have witnessing half of the bodies of their livestocks while visiting their sheds in the early morning since a couple of weeks.
The villagers have vented their ire against the construction of the park adjoining to human settlement and asking for compensation from Buffer Zone Management Committee which is in parleys with the locals in collecting the details of the loss made by the leopards.
The provision has it that the government must provide a compensation of up to Rs 10,000 for every farm animal killed by wild animals from the park.
Similarly, in the case of human causality, the family of the victim is entitled to get the compensation of Rs 300,000. Likewise, in case of injury, the law entitles the victim up to Rs 50,000 for medical treatment.
Banke National Park is located in the mi-western region of Nepal and was established in 2010 as the tenth National park.