News
Govt prepares work plan to preserve endangered red pandas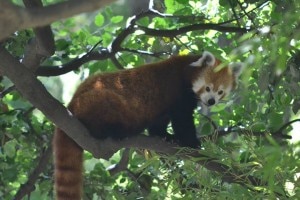 KATHMANDU, Nepal-With the aim to conserve red panda, the government of Nepal has drafted a work plan which includes initiatives and involvement of local communities residing near the natural habitat of these endangered animals in Illam, Panchthar and Taplejung districts of the eastern region.
A committee under the coordination of wild life expert Dr. Karan Bahadur Shah has prepared a plan that guides local how to conserve and nutrate red pandas.
According to Shah, the work plan is already ready and they are trying to translate the English draft into Nepali language, adding together a few more details about the vulnerability and significance of these animals.
The first section of the report includes all information about the animals while the role of locals in conserving red pandas incorporates in second section.
Conserving the red pandas was stressed in the government's novel initiative for protecting eight endangered animal species including snow leopards found in Nepal.
The report will inform the locals about food and habitat of these timid animals and their preservation from poachers.
Red pandas are found in 28 districts across the nation and their existence is also likely.
According to a report of Red Panda Network Nepal, there are around 400 red pandas in Nepal while their population is put at between 900-1000 in China, Burma and Bhutan.
In the meantime, a study has begun on red pandas in four village development committees (VDCs) in the northern belt of Illam district. In the bid to develop four VDCs into protected cluster area and habitat of the red pandas, the study is being undertaken.
Red pandas live at an altitude between 6.000 and 12,000 feet in mixed broadleaf forests. They pasture on the ground in nights and sleep in trees during day time.
The demand of red panda is highest in China as caps made from the hide are worn by bride and bridegroom in marriage.