News
Canadian climber Brash baffled by Everest rules
NEPAL, Kathmandu-At a time the government of Nepal plans to mobilize government team at the base camp of world's highest peak Mt. Everest, a Canadian climber who has ascended the peak twice says he isn't sure whether the latest moves to increase supervision on the peak will make it safer.
The team will supervise, coordinate and help expedition team besides protecting the environment.
The move follows embarrassing incidents on the slopes of the peak and growing concern over the number of death, strange records being set and false claims of scaling the peak.
'"You know what happens high in the mountains is really where the difficulties play and there's no way to really monitor that," said Andrew Brash, a Calgary climber adding there is no way somebody can be up there directing people or telling them what to do.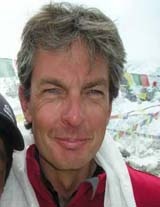 According to him keeping track of all those expeditions from base camp is really difficult task.
Earlier, Purna Chandra Bhattarai, chief of the tourism industry division that supervises mountaineering had told that starting from next year's spring climbing season a team at base camp will represent the government's administration on the ground.
At a time mountaineering experts were criticizing the government for its attempt to rein mountaineering activities from the Capital Kathmandu, Bhattarai's opinion floated.
Brash said he realized why the Nepalese government wanted the rule but he has concerned about the impact of an on-the-spot rescue team
"Once you open that up, people behave a little bit differently," quoted cbc.ca as Brash's saying.
"They maybe are a little less cautious and go for it even more, and then you might end up with more problems" Brash further told.