News
Prices of essential commodities skyrocketed in Solu, travelers hit hard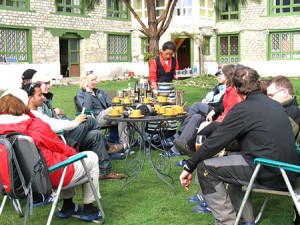 KATHMANDU, Nepal- The prices of daily essential commodities have been hiked randomly in the district headquarters, leaving the foreigners and other domestic travelers in trouble situation following  the month long disruption of flights and other transportation services in Solukhumbu district.
The road networks connecting to the district are disrupted at several places after the landslides triggered by incessant rainfall since few weeks.   The regular flights have also been disrupted in the district headquarters Salleri due to poor visibility. People, specially foreign and domestic tourists have been facing hard times since they were forced to pay double prices for almost all the essential goods.
'A local lodge charged me almost double prices for the essential goods during my month long stay in Khumbu,' a government employee Sudeep Sharma told to Nepal Mountain Focus. Shrama, who was transferred to Pokhara based health office from Solukhumbu district a month ago, but stuck to the district due to the lack of transportation, complained that he had to wait for the flight nearly for three weeks to return back to Kathmandu. According to Sharma, the foods and other services provided to him during his stay in Solu was not hygienic.   'People, particularly foreigners are forced to pay the huge amount as demanded by the local entrepreneurs,' Sharma further said. According to him, sugar priced Rs. 90 for a kg now traded at the costs of Rs 120 at Salleri bazaar adding that locals increased the prices of other goods by more than 30 percent'.
The regular flights from Luka to Kathmandu have also been halted for some days. As a result, the local entrepreneurs in the district have raised the price of daily essential goods randomly, hitting hard the consumers.