News
Tourism needs image makeover to achieve more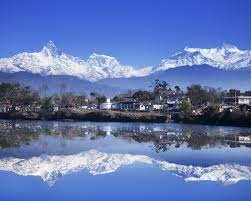 KATHMANDU, Nepal- Tourism, which is one of the main sectors in the national economy, needs to makeover its image internationally and in domestic market.
Due to various reasons the country was not able to capitalize on its tourism potential to the fullest. The reason may be lack of political stability, lack of adequate advertisement in the international market to lack of proper infrastructure development. According to the Economic Survey 2012-13 unveiled on Friday, July 12, 2013, the tourism sector needs an urgent image makeover.
The survey also recommended recognizing the sector as national priority area in order to harvest its potential for inclusive and sustainable growth of the economy.
The survey unveiled on Friday highlighted the need for immediately addressing issues relating to infrastructure bottleneck, visitors' safety and cleanliness, among others. It also suggested providing incentives to attract investment in the sector.
Nepal welcomed 803,092 tourists in 2012, which directly contributed Rs 30 billion on the country's foreign exchange reserves. In the backdrop of this data, equal participation of government agencies, the private sector and the public to create a more tourism-friendly environment is needed to boost up the economy more.
Tourism entrepreneurs for time and again have been saying that poor industrial security, labour problem, political instability and extended load shedding hours, among others, hampered tourism.
"Despite being a potential destination in the global tourism map, political instability has hampered the sector's growth," said Hari Sarmah, chief executive officer of Nepal Association of Tour and Travel Agents. "It has indeed made Nepal the last choice among high-end tourists."
Besides, air connectivity has become a major bottleneck in attracting visitors, he said, adding until the issue is resolved with firm policies to promote destinations, Nepal will continue to receive budget travellers.
Thus tourism stakeholders stressed on the need for an integrated tourism infrastructure and development of tourism products, particularly trekking, mountaineering and home stay, to decentralize tourism benefits.
A tourist spent 12.87 days on an average in Nepal in 2012, down from 13.12 days in 2011, according to the survey. Also, the average tourist spending has declined to a 16-year low of $34.93 per day per person in 2012.
Among the total visitors, 43.30 percent were here for the holidaying purpose, 13.59 percent for trekking and mountaineering, 12.76 percent for pilgrimage, 4.09 percent were fun seekers, 3.15 percent business travellers, 1.71 percent for seminars and 0.22 percent for rafting.
The tourism sector created 160,000 jobs in 2012. The sector had generated 110,000 employments in 2011. The number of star hotels reached 107 in 2012 from last year's 106, while the number of tourist standards hotels and resorts rose to 743 in 2012 from 721 in 2011.
Star hotels added 48 room nights in 2012, taking the total room nights available to 9,371. Tourist standards hotels and resorts added 829 room nights to 22,286.