News
Hundreds stranded in Lukla for a week following bad weather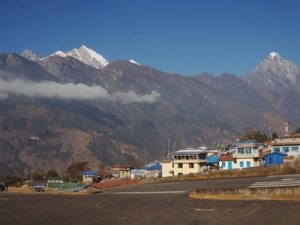 KATHMANDU, Nepal- Tourists and other locals remained stranded in Lukla after the Tenzing-Hillary Airport still remains closed for more than a week since it was disrupted due to bad weather condition.
Air passengers waiting for flights were in the condition of high and dry after the airport that hosts more than dozen flights each day could not make any flights following the bad weather.
Passengers going to Khumbu region, the gate of Mount Everest and coming from there were hit hard with the airport closure and flights disruption. Though its not the tourist season, hundreds of locals are waiting for flights to make their way up to Kathmandu, informed Phurba Sherpa, a local through telephone.  Sherpa referring the Airport officials informed that more than 150 passengers are still in Lukla waiting for the flights.
Weather too adverse for flights and rain-damaged roads have cut-off the eastern hill district of Solukhumbu from the rest of the country, Sherpa said.
Kaji Bista, an employee at Pyramid Observatory Laboratory in Lobuche, had said that he waited for a flight in Lukla for three days and seeing no ways he opt to walk upto Jiri to reach Kathmandu. "After the flights disruption for continuous days I choose to walk but the road is too bumpy with leeches ready to feed on your blood," recounted Kaji after arriving in Kathmandu.
According to the Civil Aviation Authority of Nepal (CAAN) Lukla, one helicopter made a landing on Thursday but due to thick fog it is almost difficult even for the chopper to land. The disruption has marred the locals to supply daily commodities. There are ten daily scheduled flights of Yeti Airlines, Nepal Airlines and Tara Airlines including few other non-schedule flights.
Meanwhile, the suspension of flights and disrupted highway has pushed the price of daily commodities up. The worst hit are people who are on emergency errands.
Pregnant women and other seriously ill referred to Kathmandu and other cities for treatment was not possible due to the flight haltage.
The banking sector too has also been hit hard as financial institutions have been unable to fetch funds from the Capital.