News
Tourism entrepreneurs worry over Lord Buddha's birth place following Bodh Gaya attack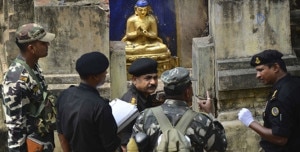 KATHMANDU, Nepal-Tourism entrepreneurs are deeply worried  about the security of the birth place of Lord Buddha in Lumbini, situated at 500 kilometer far south- west of capital Kathmandu following the Sunday's terrorist attack in Bodh Gaya, India, where Lord Buddha get enlightened.
Entrepreneurs said the incident might impact tourism in Nepal as 90 percent of foreign tourists come to Lumbini after paying visit to Bodh Gaya.
Bodh Gaya, known for the most sacred place for Buddhists all over the world, where the Lord Buddha gained enlightenment was desecrated by terrorists on Sunday night leaving the two monks seriously injured.
Tourism experts have warned that foreign tourists visiting Nepal to finish Buddhist Circuit may cut short their trip following the attacks.
Tourism entrepreneur Bikram Pandey and a campaigner to begin Buddhist Circuit from Lumbini where Lord Buddha was born said it would take few days for the tourism business in Lumbini to return to normalcy until the culprits were nabbed in India.
News report from the Lumbani said security committee of Lumbini area has took over additional measure with security personnel of the Lumbini Development Trust (LDT) and Nepal Police have been spread at all the four directions of the temple following the Bodh Gaya attacks.
Reports quoting chief of Rupandehi Police DSP Hari Bahadur Pal said two dozen more additional police personnel led by inspector have been deployed from the Riot Control Battalion since Sunday night.
Close circuit cameras have already been installed to beef up the security of Maya Devi Temple and a walk-through machine has been put in at the main gate of the Temple in the north after making it compulsory for every visitor to enter temple.
Meanwhile, president of the International Buddhist Society Bhikshu Maitreya said the attack at the place where Siddhartha Gautam attained enlightenment was an act of terrorism.