News
Airway, roadway closure hit Solu hard, makes it remote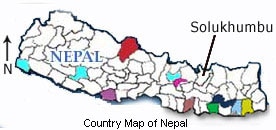 KATHMANDU, Nepal- Due to incessant rainfall and bad weather airway and roadway linking various VDCs in the Solukhumbu districts are closed making the locals and tourists visiting the places very remote and difficult.
The district, which is one of the top districts in the country linked by roadways and with the number of airports, is turning towards the remoteness after all major roadways joining the district from other places and the airports remained closed for several days following monsoon rain and bad weather.
Kaji Bista, an EVK2CNR employee based at Pyramid Laboratory in Lobuche of the district, said that he reached capital Kathmandu with much difficulty. "I had been in Lukla for three days waiting for the flight but no clues were seen for any flights," Kaji  recounts his apathy, adding, "then I opted the only option that is walking up to Jiri."  Kaji along with other three reached Kathmandu on the fourth day.
There are five airports in the district making it the only district having so many airports. But only one airport that is Tenzing-Hillary Airport operates the regular flights, which is also closed for the last few days, thanks to the bad weather.  According to Civil Aviation Authority of Nepal weekly flights were operated at Kageldanda airport in the district by Nepal Airlines after the Phaplu airport was closed for maintenance. However, lack of sufficient passengers and bad condition of the airport forced it to stop the flight.
"Lack of proper roadways and closure of airports due to bad weather has made the district disconnected from other districts," said Kaji as told by the locals. According to him, many tourists and locals wishing to travel are seen in great difficulty. "Many of them run out of expenses as the shortage of goods sky -rocketed the market price."
During the tourist seasons of spring and autumn hundreds of national and international tourists visit the district that homes Mount Everest, the highest peak in the world. Tenzing-Hillary airport, at the time, operates as many flights as Tribhuvan International Airport in Kathmandu, making the Khumbu region most visited tourism spot in Nepal for all time now.