News
Relief to expats as Saudi extends Nitaqat deadline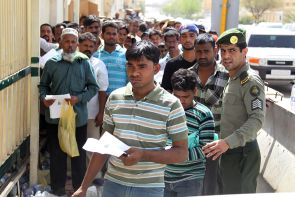 KATHMANDU, Nepal- The government of Saudi Arabia has extended the 'Nitaqat', a government decision to allow illegal migrant workers return home or to have their status corrected after documentation, deadline by four more months till November 4, 2013.
The decision is set to provide relief to thousands of migrants based in the Islamic country, including hundreds of workers from Nepal.
Talking to BBC Nepali Service, Nepali Ambassador to Saudi Udayraj Pandey said by the new deadline the embassy expect to rescue all illegal migrant Nepalis, provide them with necessary documents and send them home.
The Nepali embassy had issued travel documents to 35,000 illegal migrants in that period. Many Nepalis who had entered Saudi Arabia through illegal means, those involved in court litigation or with unpaid traffic citation had not had the opportunity to apply for amnesty.
Unable to return home, many illegal migrant Nepalis spend their time in public parks and roadsides under palm trees, while the shelter run by the Nepali embassy is jampacked with women migrants.
King Abdullah has ordered 'extending the time limit' of the amnesty which is due to expire on Wednesday until November, the interior ministry said in a statement carried by SPA news agency.
The new deadline has given undocumented expats time to complete their undocumented work. The interior and labour ministries urged all undocumented expatriates to come forward and have their status corrected.
"The three-month grace period, which ends on July 4, will be extended to the end of the current Hijra year 1434, that is November 4, 2013," reads the statement.
Once the new deadline expires, inspections by appropriate agencies such as the labour and interior ministries, will resume in various regions of the kingdom and all penalties will apply to violators, news reports quoting the statement said.
This is the second time the kingdom has given relief to the expatriates, as 'Nitaqat' was originally supposed to end in March and the King had given a three-month extension, the report added.
"It is believed that in the past three months, 16 lakh people have either rectified their residence status or have left Saudi Arabia because of Nitaqat. This includes about one lakh Indians," Malayalam Manorama reported.
Foreigners desperate to work in the country are willing to pay for sponsorship, and sponsoring expatriates has become a lucrative business for some Saudis. But under the new rules, workers can be employed only by their own sponsors.