News
More tourism packages to attract Chinese visitors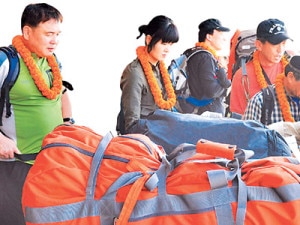 KATHMANDU, Nepal- The government of Nepal has been preparing several tourism packages in its bid to attract more Chinese tourists visit the country.
Nepal has registered blistering 36 per cent growth in the arrivals of Chinese tourists in the first quarter of 2013, despite it records two percent downfall in overall visitor arrivals.
With the Chinese population escalate their habit of traveling, government and the tourism stakeholders in Nepal step up efforts to woo this market.
Aiming the same the government is mulling the set up of visa facilitation services in several Chinese cities to smoothen the process.
Sushil Ghimire, secretary at the Ministry of Culture, Tourism and Civil Aviation, said, "Since China is our second largest market for tourism (the first being India), we believe the time has come to shift our focus towards China as a large source market, from here on."
Chinese arrivals numbered 14,700 this quarter and 85,832 in 2012. Of the latter, 53,373 came by air and the rest by road. The average length of stay for Chinese tourists is 10 days, as per Nepal government statistics.
Buddhist pilgrimages and adventure activities such as trekking, paragliding and rafting are the main draws for Chinese visitors.
Meanwhile, the Chinese government has also asked Nepal to revise the bilateral air service agreement between the two countries as the travel demand outstrips the seat capacity allocated to Chinese carriers. Three Chinese carriers – Air China, China Southern Airlines and China Eastern Airlines ­– currently run services to Nepal.
According to Nepal Association of Tour Operators, "Inbound travel companies are gearing up for the increase in Chinese tourists by training tour guides with Chinese language skills. New tour packages are being designed specifically for visitors from China."
"As the Chinese are serious shoppers and entertainment seekers, we are trying to build more of such products to attract them," Pravakar Dhital, who owns a travel agency in Kathmandu, shared.