News
Mt. Everest wears deserted look, will continue for a couple of weeks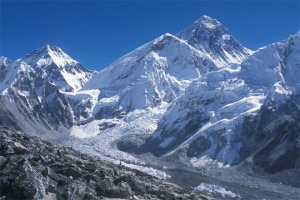 KATHMANDU, Nepal-The base camp of the Mt. Everest which till a few week ago witnessed the crowds of mountaineer is now wears deserted look and seems shun for a couple of days, along with climbers to summit Mt. Everest, Mt. Lhotse and Mt. Nuptse have returned back to their concerned destination.
With the compulsion for the mountaineers who climb the peak in summer season should have to summit the peak within May 29 and have to evacuate the base camp within the month of June, the once heavy trafficked has peak turned into isolate place these days.
According to Tshring Sherpa, the managing director of the Everest base camp all those aspirant climbers occupying the base came after erecting the tents three months  ago have already returned back and there is slim presence of people except for those officials  of the Sagarmatha Pollution Committee.
The activities of the people at the base camp had to reminded us of the mini market since some people enjoyed gambling while other carrying goods and bags. However, nowadays there is completely zero activities of the people here,' a Sherpa who is engaged in the cleaning drive of the Everest told over a phone.
Likewise, an official at the Sagarmatha Pollution committee said they were forced to evacuate the camp fearing that possible avalanche might heat the region and snow melting may take place since the temperature rises in the month of June.
The committee that has the sole responsibility to gather the dump at the Everest has made it compulsory for the expedition team to bring back the garbage to Namchee Bazar. The committee has also managed the garbage after classifying it into destroyable and non-destroyable. 'Substance those can be burned are destroyed by the incinerator while renewable matters have been brought back to Kathmandu for recycling,' a member of the committee Angnurup Sherpa informed.