News
Royalty review, opening new peaks in government's tourism plan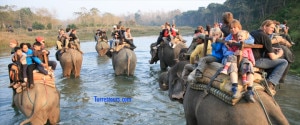 KATHMANDU, Nepal- The Ministry of Culture, Tourism and Civil Aviation (MoCTCA) has stated that various development programmes for tourism promotion are underway including the revision in existing royalty provision and opening new peaks for climbing across the country.
The ministry has formed a taskforce to review the royalty fee of different mountains in the country. The taskforce will also suggest the government to open new peaks for mountaineering and review the permit fee to different restricted areas, informed the ministry source.
According to the ministry, it is also working on improving service delivery of Nepal Tourism Board.
The ministry has sought technical assistance from the United Nations World Tourism Organisation (UNWTO) to achieve its target set in Tourism Vision 2020.
According to the tourism ministry, it has also asked for technical assistance from UNWTO to prepare strategic plans to achieve the target envisioned in Tourism Vision 2020.
The tourism ministry, in consultation with industry partners, had drafted Nepal Tourism Vision 2020 to help develop tourism across the country.
The vision complements the national endeavour of economic reforms, and gradual and focused change in the tourism sector.
Though the government has launched Tourism Vision 2020, it has failed to directly participate in implementing its strategies, said stakeholders. According to them, Nepal is becoming an expensive destination due to the imposition of various taxes. "Government should study the problems being faced by tourism sector and help resolve them at the earliest," the stakeholders said.
Nepal Tourism Vision 2020 includes both long-term and short-term plans such as infrastructure development in tourism including construction of a second international airport and developing the airports in Pokhara and Bhairahawa. It also includes identifying and developing indigenous tourism products, developing homestay and community based tourism products, and preparing and implementing a long-term fleet plan and strengthening Nepal Airlines Corporation.
The vision also includes developing a Tourism Master Plan and also Integrated Tourism Regional Tourism Management Plans for all five development regions, and providing incentives to private sector entrepreneurs to expand and extend tourism activities to rural and remote areas.
According to UNWTO, most Least Developed Countries (LDCs) have a comparative advantage in developing tourism over developed countries. It states that LDCs have assets of enormous value to the tourism industry that are culture, art, music, natural landscapes, wildlife and climate including World Heritage Sites.
Visits by tourists to such sites can generate employment and income for communities as well as help in the conservation of cultural and natural assets.