News
8 survived Nepalese mountaineers put off expedition, tourism experts condemn attack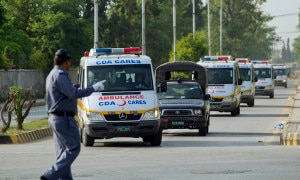 KATHMANDU, Nepal- A Nepali climber team has quit their expedition attempt with the tragic death of their fellow mountaineer in Pakistan. A Nepali Sherpa among 11 foreign tourists were killed in Pakistan Naga Prabat tourist attack.
An armed group of 20 people had gun down Nepali mountaineer and tourist guide Sona Sherpa, 35, of Solukhumbu district among other 11 tourists at the base camp of world's ninth tallest Mountain Naga Parbat, in the northern Pakistan, Saturday midnight. Other 8 Nepalese mountaineers had survived the attack as they were above the base camp, carving the path for scaling the peak.
'A group of gun men stormed into the tent and fired the mountaineers,' managing director of Seven Summit International Treks Mingma Sherpa told to Nepal Mountain Focus. Sherpa on Sunday verified that Nepali trekking guide Sona Sherpa of Solukhumbu district killed in gun fire.
Nepali embassy in Islamabad, the capital city of Pakistan has confirmed the attack.
According to director Sherpa, there were three teams including Nepali group waiting for their turn at the base camp to scale the peak. Pakistan based Mabir Sabir Expeditions Team had managed the expedition for Nepali mountaineer.  Nepali team comprising of 9 members had left for Pakistan on July 10, 2013. The team had aimed to accomplish the journey within one month.
Meanwhile, the bodies of the dead mountaineers who killed in the gun fire have been brought back to the base of Pakistan Army in Rawalpindi, Sunday afternoon.
Manager Sherpa informed that all the members of Nepali team are affiliated with Seven Summit Treks. 'It is sad events for the mountaineering sectors as well for the Pak government', Sherpa told. He further said that international tourists are upset by the dreadful attacks.
Other tourists killed in the assault are five Ukrainians, three Chinese and a Russian. One Chinese have reported to flee the attack and a Pakistan tourist guide was among those killed in the assault.
In the meanwhile, mountaineering experts of Nepal have expressed their great concern and worried over the attack. Founder of Asian Trekking Agency and ex-chairman of Nepal Mountaineering Association (NMA) Ang Tshering Sherpa said the attack was heart rendering and it has raised the questions of security to the foreigners in Pakistan.
Another mountaineering expert and operator of Avia International Club Pramod Gurung said that the attack was barbaric. Gurung opined that the assault is a significant blow for Pakistan's already stressed tourist industry
It is the first such attack on tourists in the region, though insurgent group have frequently targeting foreigners for a decade. The Pakistani Taliban has owned up the attack. A spokesman for Tehrik-e-Taliban said the attack was in retaliation for the killing of its second-in-command, Waliur Rehman, who died in a suspected US drone strike in May, according to BBC. The group has warned it would continue to target foreigners.