News
Stranded Nepalese pilgrims return back to Nepal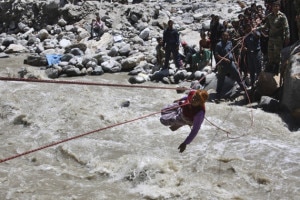 KATHMANDU, Nepal-Following string suffering and fear of being stranded in flood and landslide-hit Indian state of Uttarakhand, as many as 500 Nepalese pilgrims and workers have returned back to home through various border points in Banke and Kanchanpur districts, located at 700 kilometer far  from Capital Kathmandu.
They returned back to Nepal in Banke through the Jamunaha border point since early Saturday morning, according to sub-inspector Harihar Khadka at Jamunaha Police Post.
The Indian authorities had rescued Nepalese pilgrims from various places in Uttarakhand and arranged their return. Nepalese are still facing hard time in Uttarkhand and will continue come back on Sunday and Monday, Hari BK told over a phone. Thirty-two-year-old BK from Surkhet had been serving in Kedarnath and adjoining areas for the  past 15 years.
'A flood triggered by incessant rainfall engulfed my neighbor and other two friends before me', he further informed, and 'however, I managed to flee the dreadful flood and passed a whole night in jungle.' BK said that he consumed grass and herbal plants for the two nights in Kedarnath.
Likewise, another victim Ramesh Pakhrin of Nepalgunj said the flood hit the area shortly after they returned a hotel from the work. According to Pakhrin, those who could run survived the tragedy while women and aged pilgrims succumb to floods. He also informed that many of the pilgrims died due to high altitude sickness and lack of food stuffs.
In the meantime, special efforts are on to rescue Nepali pilgrims and workers hit by flood in Uttarkhand. In a press statement issued on Saturday evening, the embassy claimed that a team from the embassy met with the Chief Secretary of the Government of Uttarakhand, the Natural Disaster Secretary, the Indian officials concerned and the Nepali community there, and made arrangements for rescuing the Nepali people stranded in different places in the state.
A team sent from the Embassy to Dehradoon to study and coordinate in the rescue operation of Nepali people has appreciated the support provided by India for the rescue works of Nepali people and that it also appealed for continued support to this regard.
According to the Nepalese Embassy, the team reached the Jollygrant Airport and the Sahasradhara Helipad, the rescue camps in Dehradoon, and acquired information with the rescue teams there. The team also handed over to the bodies concerned the details of the Nepali pilgrims and migrant workers who have not come into contact with their family members or the Nepali Embassy and urged for searching for them and for their rescue.