News
GHT, Tara air inks deal to promote tourism spot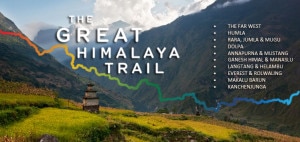 KATHMANDU, Nepal-In a bid to promote tourism destinations in Nepal, the Great Himalaya Trail Development Programme (GHTDP) and Tara Air have made a deal in Kathmandu, Tuesday.
As per the deal, the airline will include required information about GHT on all its boarding passes apart from putting flyers, posters and route maps in the seat pockets of each aircraft.
The effort financed by the UK Department for International Development DFID aims to help carry tourists and pro-poor tourism investments to under-developed region, spreading tourism benefits among impoverished mountain communities.
This initiative will help to expand GHT's visibility among a large number of domestic and international tourists who fly with Tara Air and Yeti Airlines, the airline said in a press release.
According to Umesh Chandra Rai, general manager of Tara Air, the joint initiation will also help toughen existing business in remote hilly and mountain districts.  Stating that tourism played a crucial role in the rural economy, Rai expressed confidence that the initiative will boost up rural tourism in Nepal.
Meanwhile tourism experts said the initiation would directly help the people of virgin trekking sectors by introducing tourists there. According to them the initiation would also help to create employment opportunity among the people in the rural belt of Nepal
The GHTDP launched by the Government of Nepal with support from the Dutch development organizations -SNV has been acclaimed as Nepal's best designed and implemented tourism development project.
As a pathway for sustainable development, the Great Himalaya Trail offers tourists with the opportunity to travel through some of the world's most spectacular sceneries while at the same time stimulating investment.
During the programme, Minister for Culture, Tourism and Civil Aviation Ram Kumar Shrestha said the whole idea of joining hands with the GHT was to promote remaining destinations which bear great meaning from the tourism point of view.
Meanwhile, in the separate event, Nepal Airlines Corporation (NAC) and the Employees' Provident Fund (EPF) has signed a loan agreement to purchase two aircraft for international operation.
The agreement to this effect was signed between NAC managing director Madan Kharel and EPF administrator Krishna Prasad Acharya on Tuesday.